A Paperless Tax Office is a work environment in which the use of paper is eliminated or greatly reduced. This is done by converting your tax documents and other accounting and bookkeeping papers into digital form. Advocates claim that "going paperless" can save money, boost productivity, save space, make documentation and information sharing easier, keep personal information more secure, and help the environment. The concept can be extended to communications outside the office as well.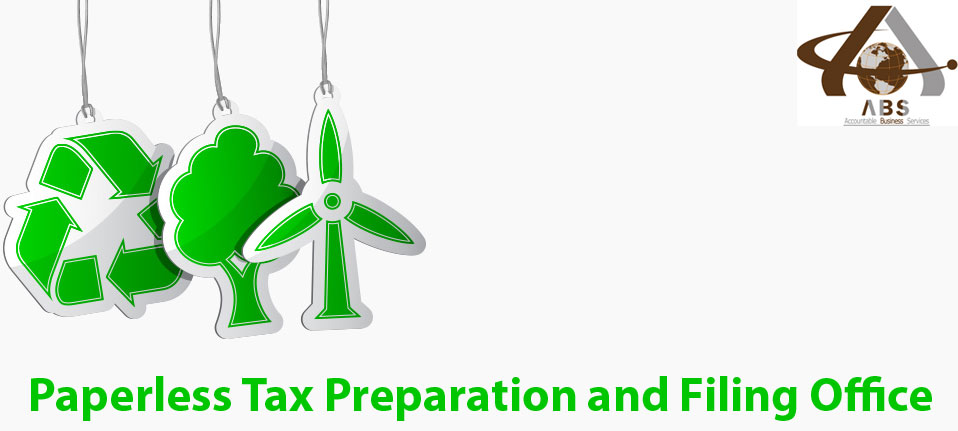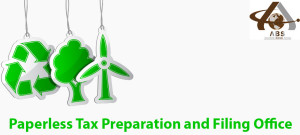 The paperless office was a publicist's slogan, intended to describe the office of the future. It was facilitated by the popularization of video display computer terminals like the 1964 IBM 2260. An early prediction of the paperless office was made in a 1975 Business Week article. The idea was that office automation would make paper redundant for routine tasks such as record-keeping and bookkeeping, and it came to prominence with the introduction of the personal computer.
Accounting firms are often overwhelmed with incoming paper and electronic documents – particularly at tax time. Clients send e-mails with tons of disorganized attachments. Customers come in with disorderly stacks of paper, hoping you can make sense of it all and file their return.
Read: Paperless Office Environment for Accounting and Tax Services
It's a challenge to keep up with it all, and every minute you spend searching through stacks of paper or files filled with electronic documents for the right receipt or invoice is time you can't spend generating income.
Accountable Business Services (ABS) ABSPROF quickly earned a reputation for providing our clients with outstanding customer service as well as providing each of those clients with a core set of essential services specifically designed to ensure they maintain a distinct operating advantage. Our firm specializes in the field of Paperless Income Tax preparation and Filing, both for individuals and for small businesses.  Finding an accounting firm may be the simplest way to have your personal or corporate tax returns prepared and filed in an accurate and timely manner.  When you are looking for a professional to handle your business tax requirements or your personal tax matters, The ABS Paperless Tax Office will always provide you with friendly and personalized service.
Accountable Business Services (ABS) ABSPROF offers Paperless Accounting and Tax Services in Alberta specially Edmonton Area, St Albert, Strathcona County, Calgary, Red Deer, Lethbridge, Medicine Hat, Fort Mcmurray, Grande Prairie, Airdrie, Banff Canmore, Lloydminster and all over Canada on a very low rates with high quality work.
Due to Paperless Office Solution Accountable Business Services (ABS) ABSPROF now offer cloud based accounting solutions to serve you better and create convenient options that meet your needs.
Submit your records electronically without having to visit our office. We will prepare your returns, year-end and financial statements and provide you with an electronic copy of all prepared and filed tax documents. You can even sign your documents online. We will securely store your file, freeing you from the worry of tracking paper records. It's a simple solution that saves you time.
For our clients, this virtual process is an appealing alternative to traditional paper records. Paperless technology is accurate, safe, and convenient. As always, we will continue to offer personalized service for those clients who prefer to meet and submit their records in person.
ABS Professional and Paperless Accounting and Tax Services go beyond traditional accounting services to meet the client's business growing needs and also strengthen their competitive edges.  We help clients establish accounting systems including effective internal control procedures to ensure safeguard assets, appropriate financial reporting, and efficient process.
General ledger and bookkeeping (Monthly/Quarterly/Annual)
Financial statement presentation
Compilation of financial statements and tax returns
Review of financial statements and tax returns
ABS Paperless Tax Services help individuals, corporations, partnerships and trusts to prepare tax returns and income tax planning.
Investors
Business owners
Professionals
Self-employed individuals
Corporations
Families
Electronic tax filing or paper filing depends on the requirements and situations. We prepare tax returns based on information provided by you and explain you the results and tax implications.
Tax planning provides tax advice on particular business transactions on the basis of Income tax act and regulations under the scope and nature defined in each situation with certain limitations.
Other tax services include GST/HST filing, payroll services and assistance to your CRA audit needs and so on.
For your convenience, our Paperless Tax Office is available during our flexible business hours to meet your needs. To see how affordable it can be to trust your income tax return preparation to an experienced professional, Contact Us today.
Contact Details
Accountable Business Services 9905 104 St NW T5K 2G5 Edmonton
Local # 780-850-4786 and 403-478-6441
Toll Free: 1 (888) 556-7864
Fax Number: 780-669-7960
E-Mail: [email protected]
Website: https://absprof.com/