Most Important Taboo Topics Examples in Canada – Accountable Business Services ABS ABSPROF Alberta Edmonton Calgary and Red Deer
During the Christmas season there are so many social events where people have the chance to get together and just socialize. It has been an age old concept that there are three subjects that really should never be discussed. These are death, politics and taxes. So what are the reasons for this, and why maybe should this taboo of not speaking about these subjects?
Death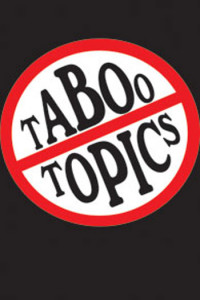 Of course nobody likes to talk about death at any time of year but especially around the holiday season. It is a conversation that can definitely be put off to a more appropriate time. This usually occurs around the time of someone's passing. However, what is not discussed is normally the tough financial situation that many individuals' end up in as a result of losing a loved one like their spouse for example. Therefore others don't give much thought about what if this happened to them. They only see the grief and suffering of the loss and not what follows after the funeral and the difficulties the surviving individual may face on a financial level.  More thought has to be given to what happens to loved ones financially and proper planning made for this. It means awareness which often comes through conversation.
Politics
Most people refrain from talking about politics because the conversation evolves around the view points of those conversing. This can often lead to heated discussions. Yet there are tons of people that really don't understand the basics of politics yet this has a major impact on their lives. Not only from a financial standpoint, but many other ways. The key here is not to refrain from talking about politics but keeping an open mind and allowing others to have their opinions. It is okay to agree to disagree.
Taxes
In general people don't like to talk about their personal finances and of course this is what taxes are all about. The only conversation that generally takes place is people grumbling about the tax laws. It is not generally a conversation that takes place about specific issues concerning an individual's tax situation that becomes a topic of conversation. Yet, a lot can be learned from the experiences that others have had concerning their tax issues. Somebody in the party of the conversation may have a good contact like an experienced accounting expert who could help others, yet this information is not passed on because there is no awareness that others may need this service.
Accountable Business Services (ABS) ABSPROF is the leading Accounting and Tax Preparation and e Filing firm of Alberta and we offers Accounting, Tax Preparation and e Filing Services in Edmonton, Calgary and Red Deer on a very low rates with high quality.
Accountable Business Services (ABS) ABSPROF bears a Paperless Office and we work on Cloud Technology. ABS is affiliated with Edmonton Chamber of Commerce. So if you want to hire an Accounting firm for you Accounting, Tax Preparation and e Filing needs on a very low rates with Cloud Technology Quality of Service (QoS), then feel free to Contact Us.
Contact Details
Accountable Business Services 9905 104 St NW T5K 2G5 Edmonton
Local # 780-850-4786 and 403-478-6441
Toll Free: 1 (888) 556-7864
Fax Number: 780-669-7960
E-Mail: info@absprof.com
Website: https://absprof.com/