Corporate Taxes Preparation and EFile Service-Accountable Business Services ABS ABSPROF Alberta Edmonton Calgary Red Deer Canada
Accountable Business Services (ABS) ABSPROF is an Edmonton based Accounting firm serving clients in Edmonton, Calgary, Red Deer and all over Canada, providing high-level Canadian personal and corporate T2 tax services including income tax return preparation, tax optimization and tax deferral, financial planning, and filing T1 Adjustments.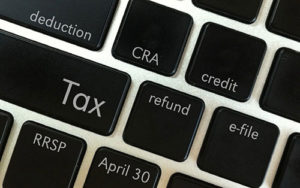 Whether you're a full-time employee at a large corporation, an independent contractor, a small business owner, or a mid-sized company manager, you can benefit from the tax preparation services offered by Accountable Business Services (ABS) ABSPROF. Our knowledgeable, dedicated team has the tools and skills to prepare your taxes in a timely and efficient fashion.
Filing your own taxes or corporate taxes takes time and patience. Why struggle to navigate all those confusing rules when our team can handle your tax preparation for you? When you work with us, you'll benefit from our attention to detail and up-to-date knowledge of tax preparation guidelines.
Read: Canadian Business Taxes T2 Preparation and Filing Services
We can comb through your financial records to make sure you're not missing out on any deductions while taking steps to help you legally minimize your tax burden. Whether you pay taxes quarterly or once a year, we can make sure that all the appropriate paper work is filed on time so that you don't receive unnecessary penalties along the way.
Accountable Business Services (ABS) ABSPROF provide timely, cost-effective and accurate tax planning and tax preparation services providing value through; a thorough understanding of our clients' needs and the relevant tax laws and options available to them.
Our firm has significant years of experience with Accounting & Taxes, allowing us to bring a unique set of talents and a deep knowledge base to ensure that our clients are given the very best in accounting and financial reporting services.
We specialize in Canada tax services, corporate reporting and tax preparation as well as bookkeeping and individual tax preparation. Your personal and corporate income tax may be the highest expenditure in your entire life and everything in your power should be done to legally reduce this lifetime liability. Knowledge is power and you can use our expertise to get you the best results. The best results are making sure you pay lower taxes through proper tax planning.
The professionals at the Accountable Business Services (ABS) ABSPROF can provide expert tax planning advice and consultation for clients with personal and corporate income tax issues in Edmonton, Calgary, Red Deer and all over Canada.
From our head office in Edmonton, AB; the ABS experienced corporate and personal tax advisors will be glad to assist you with T1 Personal Tax Returns (complete with Instant Refunds), T2 Corporate Tax Returns, GST /HST & Payroll services.
Our superbly trained, professional team takes great pride in offering personalized attention providing both corporate and personal accounting services, ensuring clients receive the highest-quality, timely advice in all areas of accounting, financial and income tax planning to improve cash flow, save taxes, optimize allocation of funds and maximize return on investment.
In addition to providing personal and corporate tax return services, we also offer financial planning for individuals.
Our clients include self-employed individuals and entrepreneurs, owner-managers, small and medium sized businesses structured as proprietorships, partnerships, joint ventures and corporations.
Don't stress over taxes. Contact Us today for more information or to schedule a consultation.
Contact Details
 Accountable Business Services 9905 104 St NW T5K 2G5 Edmonton
 Toll Free: 1-888-556-7864
 Local Number: 780 (850) 4786 and 403 (478) 6441
 Fax Number: 780-669-7960
 E-Mail: info@absprof.com
 Website: https://absprof.com/