Alberta Bookkeeping and Tax Services from Accountable Business Services ABS in Edmonton AB St Albert Strathcona County Calgary Red Deer and Canada on Niggling Price
Whether you are looking for current Bookkeeping services or stress-free Tax preparation, Accountable Business Services (ABS) can encounter your demands. Every business owner experiences the grandness of continuing precise accounting records. Beyond meeting the essentials of CRA, punctual accounting records can supply you with latest data so you can make better and more advised business conclusions. At Accountable Business Services (ABS), we are expert in assisting companies like yours.
Is your present business developing? Are you discovering it more and more hard to hold your company's accounting records? Are you behind or late with your taxes? Maybe, you are beginning a new business and require advice on how to financially structure your new company?
Accountable Business Services (ABS) offers a mixture of tax and accounting services including the following:
New business

start-up

consultation for small businesses.
A wide range of assistance with Accounting and Bookkeeping on a weekly, monthly or yearly basis.
Complete payroll services.
Corporate, personal and business Income Taxes prepared on professional software, E-Filed to CRA.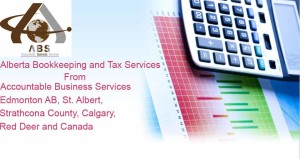 Accountable Business Services (ABS) is a full-service Alberta Accounting, Bookkeeping and Tax Services experts offering services in Edmonton Area, St Albert, Strathcona County, Calgary, Red Deer, Lethbridge, Medicine Hat, Fort Mcmurray, Grande Prairie, Airdrie, Banff Canmore, Lloydminster and all over Canada on Niggling (Little) Price. In business from several years, we provide Accounting, Bookkeeping and Payroll Services including Personal, Business/Self-employed and Corporate Tax preparation.
Our tax and Accounting services are customized to meet the needs of our clients whether they are an individual or a small or medium-sized business. Our personalized approach to financial services has resulted in many satisfied individual and business clients. Our costs are highly competitive and we can offer flexible scheduling that larger companies cannot.
As a small business owner you've more crucial things to do than Bookkeeping.  ABS Bookkeeping & Tax Services provides an full-fledged and low-cost alternative for the small business or individual who requires accounting, bookkeeping or tax assistance. We also offer consulting services for businesses that prefer to do their own in-house bookkeeping as well as assistance to public accounting firms with overflow tax and yearend work.  We have flexible plans and ideas to meet many particular needs.
Accountable Business Services (ABS) offers the full Accounting/Bookkeeping and Tax Services tailored to meet the needs of the individuals and small business community. Our accounting services include a full set of books from trial balance to financial statements, payroll, tax services, business consultation and tax planning that cover individuals, self-employed and small, medium and large business.
Accountable Business Services (ABS) mission is to provide a authentic, professional and fair price Bookkeeping and Tax preparation Services that is low-priced to average consumers and small business operators. Our business's goal is to serve the needs of individuals, self-employed and small businesses to enable them to realize their financial goals and achieve a better bottom line at year end. Our practice embraces the latest Accounting and Tax technology to create effective results.
If you want to take our Bookkeeping and Tax Services than you can easily Contact Us through following contact details:
Contact Details
Accountable Business Services
9905 104 St NW T5K 2G5 Edmonton
Support Call: 780 (850) 4786 & 403 (478) 6441
Fax Number: 780-669-7960
Website: https://absprof.com/
E-Mail: info@absprof.com